Rapid prototyping and benefits discovered with proposed motor. New equipment stays ahead of competitors by on-time delivery of what customer wants.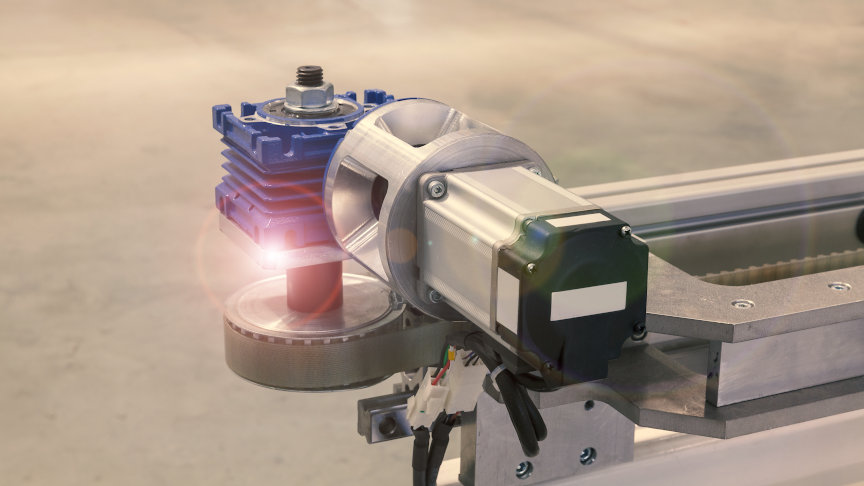 Company H: develops conveyance device
"We wanted to beat the competition, but when we looked more closely at what the customer was asking for ..."
"To be frank, the requirements were extremely challenging. But with competing vendors also eagerly pursuing the business, we had no choice but to give the customer what they wanted, when they wanted it, or else risk losing the order." So recalls a manufacturing manager (Manager K) at Company H.
Company H, a developer and manufacturer of conveyance equipment, had differentiated itself from competitors by the speed with which it had satisfied even the most difficult requirements of customers installing new equipment or revamping their production lines.
In this case, Company H had received an inquiry about the installation of additional equipment from one of its customers, a car parts manufacturer. Finding itself in a position where it needed to expand its production line for making precision components and to have it up and running quickly, the manufacturer was asking for delivery at short notice.
When Company H consulted with the manufacturer and looked at the job in more detail, it found that there was very little space available for installing the equipment and that there was no way it could be made to fit given the layout of existing equipment used on the line. To install the equipment in the space available would require smaller components.
Fitting the entire production line into a smaller space requires not only smaller conveyance equipment, but also highly accurate stopping operation
In the first place, the conveyance equipment Company H has manufactured up to now also had problems. These used low-power AC motors that lacked precise motor control, resulting in variability in workpiece stop positions.
In the case of the additional line to be added in a confined space where there was no room to spare, even small deviations in stop position would be enough to cause defective products to be produced. This variability in stop position was a major issue for the new conveyance equipment.
This required improvements to be made, starting with the mechanical design, so as to enable highly precise control by fine and easy settings changes and adjustments.
As the deadline loomed, Company H's manufacturing manager contacted ASPINA's sales department, which the manager had contacted once before on a different motor-related matter.
New motor's benefits go beyond size and performance
The ASPINA salesperson suggested a stepper motor with a built-in driver and controller. This integrated design removed the need to find space for a separate controller and is expected to make the conveyance equipment significantly smaller. Another advantage of the stepper motor compared to an AC motor was the greater control it provided over acceleration and deceleration.
The proposed motor was a standard off-the-shelf model sold under the Plexmotion brand. As this avoided the need for a long lead time and the purchase of a certain number of units as is the case with motors made to order, it meant that Company H could get only as many motors as they needed, when they needed them.
Interested by this option, Company H's manufacturing manager immediately ordered the stepper motor and built a prototype conveyance equipment.
On conducting tests of this prototype, Company H found that it would overcome the issue of stop position variability after confirming the motor could not only easily set the stepper motor acceleration and deceleration, but also make a sudden stop when needed.
Furthermore, the use of an integrated motor when incorporating stepper motors into the conveyance equipment not only makes full use of the available space, the simpler wiring requirements of an integrated motor also cuts down on assembly work. And, simple setup work for motor control also helped in replacing AC motors without unwanted surprises.
Reasonable pricing raises prospect of replacing motors in other equipment also
Having successfully supplied the new conveyance equipment on schedule, Company H was rewarded with a pleasing response from its customer, who noted that the new conveyance equipment would also make production line revamps simpler.
As the manufacturing manager observed, "Being able to purchase a single motor was a big help because it allowed testing to go ahead quickly. It is great to be able to order motors as and when we need them."
Company H's manufacturing manager continued communicating with us after this project, consulting ASPINA about the motors for a variety of other equipment. Apparently, the reasonable pricing of Plexmotion brand motors has prompted ideas of using them to replace other types of motor also.
Customer challenges
Lack of space for new production line demanded reduction in size of many parts on new conveyance equipment
Need for a motor able to provide precise control of workpiece stop position as well as easy setup changes
ASPINA solutions
Stepper motor with built-in driver and controller satisfies size and performance requirements
Being an off-the-shelf model meant a motor could be ordered immediately to start work on prototype
Ease of use and reasonable pricing led to motor being considered for use in other equipment
Contact us for more information
New inquiry

Prototype

Upgrade

Customization

Your spec

Literature

Support

Others